An Ultimate Guide between Adobe Photoshop vs Illustrator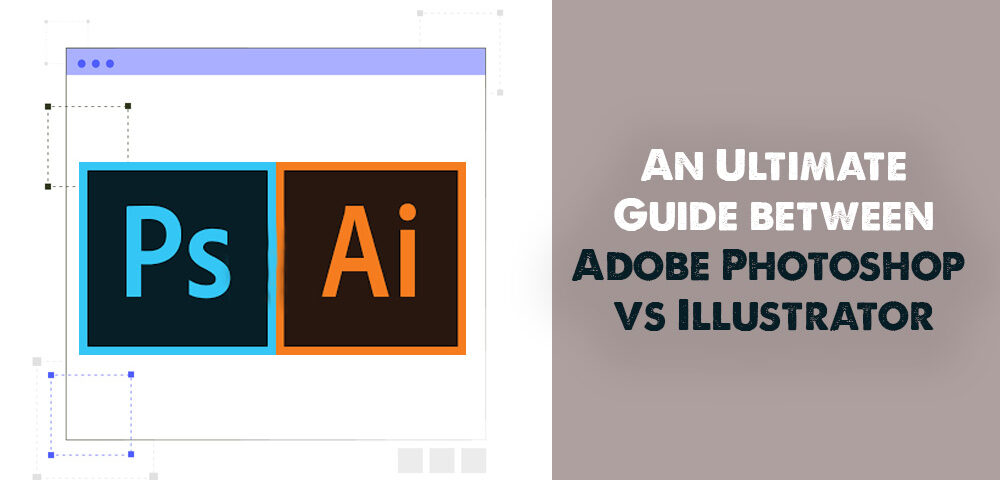 The two popular and helpful programs used strongly by many artists are illustrator and Adobe Photoshop. Besides, these specific programs are designed with a lot of features in common and also bigger differences compared to their similarities.
Generally, knowing their differences is a significant key for creating excellent work, because utilizing the wrong program can mean sloppy text, unusable logo, or blurry end product. Without further ado, allow me to take you through an ultimate guide regarding all the necessary information you need to know between Adobe Photoshop vs Illustrator.
What is difference between the Adobe Illustrator and Photoshop?
Adobe Photoshop is first developed back in 1988 while the illustrator was developed back in 1987. Photoshop provides a few vector art, however, these tools are not useful or advanced as an illustrator, on the other side, the illustrator presents different and helpful drawing tools for creating exception artwork, graphics, etc.
Photoshop mostly utilizes for the correction, manipulation, and compositing of images while illustrator is utilized for manipulating, compositing, creating, etc. the vector illustrations. Further, Photoshop's basic purpose is effectively manipulating the graphics and photos while illustrator is used for drawing programs though in handling the text illustrator is perfect compared to Adobe Photoshop.
In Photoshop the specific layer feature is incredibly significant for the program to operate perfectly while the other one, this specific layer base feature not very necessary for the artist. Essentially, with Photoshop the images can get zoomed but it offers messy and blurs images that in turn provide low quality while the illustrator images can get zoomed ranging 900 percent, and all its photos are clear.
Additionally, the Photoshop path is utilized with aid of a pen for any selection while in Illustrator the path is utilized with aid of its pen for creation. Lastly, Adobe Photoshop is raster–based better software while illustrator is the vector-based best software.
What is Adobe Illustrator?
The adobe illustrator is a very advanced and vector-based editing helpful software utilized to create graphics, logos, fonts, and cartoons. Besides, this specific software is designed to use the pixel-based format, mathematical constructs to eventually create the vector graphics. Many of us would at some point ask what is vector in the illustrator.
Generally, the vector is the line that is composed of two detailed dots connected via the processor algorithm, rather than one line of the pixels. And because of the vectors, adobe illustrator is frequently used to create logos or something which might require get displaying or printing at different sizes.
Besides the vectors are the best scalable images that can get sized as large or small as the user would want them to be, although look similar when it comes to resolution and clarity. Further, this software significant tool when someone is building documents that use templates.
What is Adobe Photoshop?
Adobe Photoshop is another great program that is used to modify the created graphics or images like photos. And also it is a popular and much-celebrated program. Thus, editing the photos with this software is awesome in Photoshop, since it comprises a lot of exceptional filters, tools, and special effects.
Creating the logo in Photoshop can't get manipulated or enlarged in a similar manner which is an illustrator logo can. The type will print the clearest right at vector-based rendering. Generally, adobe Photoshop is a raster –bases and utilizes to eventually create images.
Also, it is designed for creating and editing raster-based and photos art. When this program was typically developed it was designed for photographers, however, as time went on the program has now grown to aid all categories of the artist to operate many and different types of work.
Besides, this specific software is well-known for creating web pages, designs, video graphics, banner ads, and the original usage of creating and editing images for print. Additionally, Photoshop is also known and much celebrated to be capable to do more and it's straightforward to all types of design and artwork.
When to use Adobe Photoshop?
(a) Apart from the basic editing, for the individuals who would want corrections to existing work like adding a border, clipping path, blemish removals, re-touch, etc. Therefore, adobe Photoshop helps with new upgraded features which continually keep releasing.
(b) It is also helpful ways which apart from the basic vector artworks, raster graphics manipulations can also get modified.
(c) For the individuals with their primary goals connected to image enhancement or editing, thus Photoshop can eventually prove to an excellent option for you. It is designed with different and beneficial features and tools for that specific purpose.
(d) When your artwork is typically pixel-based or other related words, someone will be using the raster-based graphics.
When to use Adobe Illustrator?
(a) For the individuals who might need more flexible photographing, for example, you want to typically create some layout, you need to get a free hand to offer the best possible results.
(b) The illustrator is delivered with plenty of helpful tools and modern updated features to aid you to bring your artist ideas.
(c) When someone wants to create documents like brochures, annual reports, etc., this specific software can eventually prove to be of useful use.
(d) Some individuals might want to work on vector-based projects like designs, logos, or similar others related to where you want the smooth edges, need zooming capabilities, freedom from the resolution issues, etc. The adobe illustrator is significant software to own.
(e) Its plugins will aid in making the blank web page right to the bright-looking web page.
(f) When you need to create a clear and best image or design from scratch, upon your perception this software will hugely help you.
What Illustrator vs Photoshop pricing?
Adobe Photoshop as per every official purchase page, the specific standalone application can get availed ranging as 20.99 dollars every month subscription basis.
On the other hand, the illustrator for a single app is priced ranging as 239.88 dollars every year subscriptions according to the official purchase page.
What the helpful features of Photoshop?
(a) Unbelievable transformations, awesome editing – we have already discussed a lot regarding the creative capabilities of the illustrator earlier, however, when it comes to Photoshop is no less. You can import the images to Photoshop and the options and tools offered can typically transform it.
(b) Covers a greater range of different devices – With this modern technology and increasing popularity of Photoshop, adobe is designed to increase its abilities, offering more functionalities and tools for an extensive range of devices tool. Meaning with portable many devices like Ipad and iPhone, someone can effectively become a greater creator.
(c) Ease to use – Many of us have come across or heard about this software before. However, have ever asked yourself how it managed to reach countless individuals? Relax! This major reason is simple, the comfort to use. Any beginner can easily and effectively pick up with the operating style of Adobe Photoshop. Further, the remaining is upon the creativity of someone's mind. Meaning, anyone can easily use this specific software to create anything he/she might want.
(d) Free-handed creativity – Utilize tools like markers, paintbrushes, pencils among other related to eventually create clear and smooth illustrations. Regardless of that the illustration capability is a bit less compared to that in adobe illustrator as this software is designed for various purposes, little illustration touch might redefine someone's artwork.
The Illustrator useful features
(a) Create layouts, innovate with text – the text is not only text here, the user can effectively apply any creativity or style that comes in his/her mind even to text matter. You might also combine them and come up with amazing and beneficial textual designs too.
(b) Can collaborate with other related tools of the adobe family – generally, this software is everything you would want, the user is not restricted to create inside extend of it. Consider combining the functionalities of other related graphic software of adobe families such as XD, InDesign, and Premiere Pro to eventually obtain more effective results.
(c) Work on the scale – With this specific software the user can eventually be able to scale down or scale up your specific work at any period during someone's projects. This means it assists the user is working to the last level with your certain project. Your attractive crafted layouts can eventually serve as an excellent resource for different IT industries. The perfect graphical representations and illustrations can aid to efficiently grab a better numeral of audiences.
(d) Dynamic ways for creating – generally, this is a helpful and useful software that allows someone to operate it in more ways to with different designs like giving and importing then draw to append someone's style with art, a re-touch with color scheme and many others related.
Which one is better between Adobe Photoshop vs Illustrator?
Generally, the above software is an incredibly strong and beneficial design tool. However, Adobe Illustrator is perfect and much celebrated for graphical, clean illustrations while Adobe Photoshop is better for image bases illustrations. Generally, adobe Illustrator is an industry-standard layout app that allows its users to effectively capture creative vision with color, typography, shapes, and effects. Further, it works across mobile and desktop devices and rapidly creates attractive designs which can go viral easily.
Which is the best tool for wireframing and sketching?
Generally, the illustrator is easier and best to utilize when creating the wireframes rapidly. Besides, the capability to manipulate, resize and reuse elements rapidly is significant when creating the wireframes.
Which is the best tool for digital art?
Again the Illustrator is perfect for graphical, clean illustrations, and on the other side, adobe Photoshop is good for the image based on the illustrations. However, it typically depends on the category of the illustration. In most cases, the illustrations typically begin their life on the drawings, the paper then scanned and purchased into graphics program of color. Besides, there also some other cases, where the illustrators tend to mix both, but it all depends on what category of illustrations you want to create.
 Which is best for the web layout?
For most designers, Adobe Photoshop is incredibly the very first selection in specific cases.
 Can someone use Illustrator and Photoshop together?
In essence, you can come across some individuals who prefer using one specific software over the other. However, in some cases, it is helpful to utilize illustrator and Photoshop together. What I mean is that you might require to eventually add some unique text on an image for your blog or your portfolio. Thus, at this point utilizing Photoshop to add the text on the image can distort, but transferring your edited image right illustrator, later add the text will provide you excellent results.
Read more: Free trial of Photoshop
Photoshop vs Illustrator video
Conclusion
I can conclude that one program is not better than another one, but they are only different. Therefore understanding Adobe Photoshop vs Illustrator will significantly aid you to make the right and helpful decision about which is the best software for your future projects. Luckily, I have provided a comprehensive guide regarding all the necessary information you need to understand between Adobe Photoshop and Adobe Illustrator.