20 Photography Tips for Beginners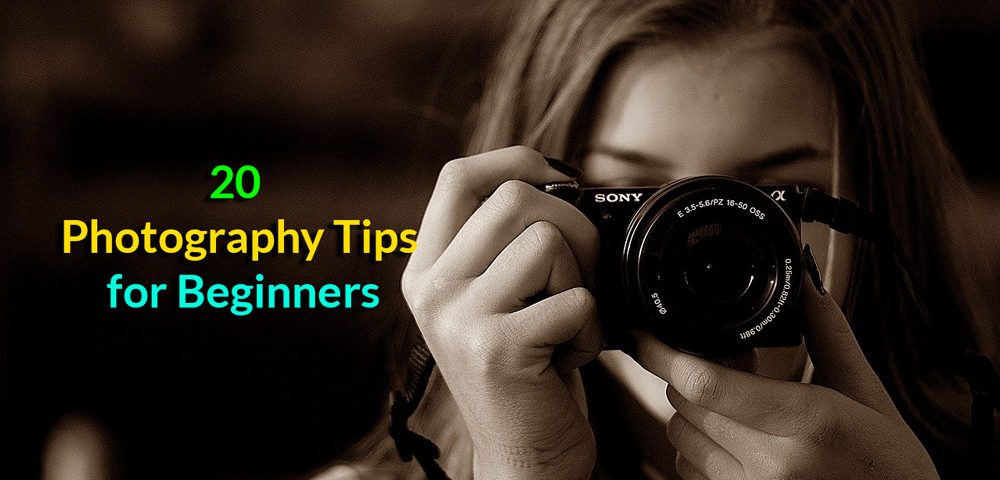 T here are numerous institutions that teach courses on professional photography for beginners. But not every student ends up being a successful photographer. For many, it turns out to be a time and money-wasting project.
On the other hand, there are many self-taught professionals out there who are really good at photography. Thus, in this article, Clipping Path Creative will be discussing photography tips that beginners will be able to catch and apply quickly.
So, here are our 20 photography tips for beginners that you can follow.
20 Photography Tips for Beginners, you should know
Below, we are going to talk about the important tips you should pay attention to for becoming a better photographer. The tips are given below:
1. Camera Choice
Sometimes what kind of camera you have doesn't really matter, but how you use it in the most efficient way with its given features.
However, if you're about to buy a new one, you should consider that beginner DSLRs are way better than professional SLRs used in films.
Yet the photographers employed for films are professionals and take amazing photos. But honestly, they would also be able to take great photos with a simple DSLR. The reason is that they're on a professional level.
2. Composition
You need to fix your own composition. When you're taking a photo, you should stay engaged in what you're doing for that photo. Just taking a quick photo with minimum effort won't give you a good outcome.
To manage this, you should know your basics of composing photos. Don't skip important parts of the subject or object you're taking a photo of by letting it go past your frame's edge. Level your horizons and lose focus from distracting objects in the image.
3. Settings
An important lesson would be about camera settings. Generally, this needs tons of practice and experimenting to understand, and you should have all the settings on your camera memorized.
To start off, it's best to go through any manual your camera comes with. If there isn't any, try looking online by typing out the details of the model of your camera and find an online manual.
4. Highlights
While you're in the middle of setting your camera mode, you could likely make a mistake with overexposure in highlights of the photo. The way to do level your highlights is to check when you're taking photos and make sure you don't see overexposure.
If you find any, then lower your ISO to 100, which is the base value. If there's overexposure even while you're ISO is at 100, then increase shutter speed. Another part that can help with this issue is setting your aperture to f/32 or f/45.
5. Lighting
Lighting is the most important factor in taking photos with a camera. But just having a lot of light doesn't necessarily make your photo perfect. It's all about the balance of the light's intensity and the direction it's coming from.
6. Time
Photography takes lots of practice, and the perfect shot also takes time. There's always a mistake here and there that could go unnoticed. You'll have to take multiple shots till you get the perfect one.
Another thing you should do is double-check the settings on your camera. Because you obviously can't use previous settings set from a prior date on the present date when the scenery is much different. You'll have to change them to adjust to the current situation.
7. Body Movement
Always sticking to still photos won't be fun for long. At one point, you'll want to extend your experience. This is a good thing to stay challenging. Don't hesitate to climb onto things or buy accessories to lengthen your camera's height. Move around as much as you like to get the proper distance for your photo.
8. Using Tripods
It's one of the best photography tips for beginners. Tripods are very handy accessories to go with your camera. Not only are they good to take straight photos, but they also help with family photos that need timers.
A cool trick to do with tripods is taking multiple photos per minute to capture changes in scenery since the tripod keeps the camera in a fixed position.
9. Flash
Excessive use of flash is something most inexperienced photographers do, especially in dark environments. But flashes can be used outdoor during broad daylight as well. There's a term called 'fill flash.' This refers to filling shadows around your subject by using a light flash. We can remove flare from your images at a cheap price.
10. Lenses
You can't ignore cleaning your camera lenses and expect to take good photos while your lens is dirty, smudged, or scratched. The safest way to clean them is by using a microfiber cloth and cleaning solution meant for lenses.
Doing this at least once a week should be fine.
11. Filters
If you don't want blurry photos, then avoid buying cheap or old filters. This is something you really do need to consider spending money on. Having a bad filter in front of your lens means your photos will have corners that will be blurred or slight white areas that look like light from a lamp.
Most of the time, filters aren't needed at all unless you're in an environment where you need protective gear; for example when you're camping.
12. Post Processing
An important part of being a photographer is knowing the basics of photo post-processing. With proper processing, it's possible even to turn bad photos into good ones. But when you are editing, make sure you edit on a copy and not the original file.
13. Backup
Don't ever forget to keep a backup of all your photos. You never know when you'll need which photo at what point in your life.
It's good to keep all your photos from your beginner stage until the current stage so you can see your progress and see the changes. When you see you're getting better with experience, it'll boost your confidence.
14. Organizing Things
The day after you take a bunch of photos, make sure to keep them in a folder and label that folder with the event or date. Since you're going to be taking multiple photos, it's good to keep your collection of photos in an organized manner, so they don't get all scattered and mixed up.
15. Socializing
Meeting other photographers expands your knowledge about the photography world. Everyone comes from different kinds of places and have a different view on life. Their experience in photography could differ from you on an emotional level as well.
So, it's good to get to know some other photographers and listen to their stories and maybe get some advice. It's best if they're professional photographers, so they'll be able to advise you well.
16. Weaknesses
Every beginner photographer has a weakness or two at first that needs fixing. You might not be able to detect the problem in the beginning. Maybe some other photographer will point it out for you, or maybe overtime, you'll notice it yourself.
If you know you lack some skills, it's good to read over the manual to see if there's something technical you're missing. If it's more about how you're doing it, then try asking a photographer friend for advice or a demonstration, so it'll help you understand what you're doing wrong.
17. Reflections
Another cool technique most professionals use is photographing reflections. Whether it's from a mirror or water, mirrored effects are very popular nowadays.
18. Photographing Fireworks
Fireworks happen rarely, and they're also pretty difficult to take photos of. One issue is speed and timing. The other is the sudden bursts of light flickering in the sky.
Therefore, the advantage is that you can experiment a bit and adjust your settings. Because firework events happen for about ten to twenty minutes, various numbers and colors of fireworks will be there. For the first few minutes, take your time to adjust to the sound and light, along with understanding the lighting and timing.
19. Photographing Pets
We all know pets never want to stay still on the camera. Yet the best photos of pets are when they're active and playing. That is the tricky part because you have to take photos of a subject that is rapidly and continuously moving.
For this, you need a short telephoto lens. When you're using this, make sure you're leaning on a wall. Use the shutter priority mode and use the setting of 1/125 or 1/500 second to take multiple and quick pictures.
20. Photographing Parties
Since parties usually happen indoors and in dark environments, it's good to use lenses with wide zoom features. Also, it's perfect for photos in tight spaces or even group photos.
Try not to use the built-in flash because it ruins the photos. External flashes are much better because they bounce off the walls and ceiling.
Final Words
Modern photographers buy a lot of accessories.
But such accessories aren't always useful for beginners since they won't be able to make use of them properly. Rather, they need to work on the basics.
We hope the above photography tips for beginners will help you understand camerawork better and grow as a photographer.