How to Use Ring Light for Product Photography?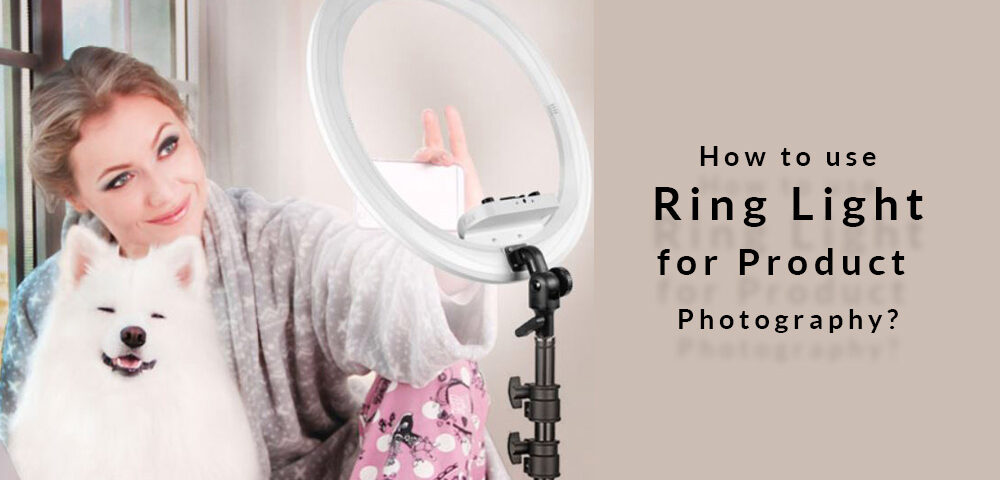 Do you wish to take incredible product photographs with ring lights as your lightning source? Then keep reading to discover how this could be accomplished.
Ring Light has become a global need, especially in the photography industry. And that's because of the flexibility and superb continuous lightning it provides during a photoshoot. Besides photography, ring light finds application in the video production industry where it also acts as a source of lightning in creating footage. Although this circular shaped artificial lightning object can sometimes be pricey, it's worth it as it provides your images with that perfect glow you desire.
Now we know that ring lights can provide the proper lighting you require to shoot high-quality photographs, but could they be used in all photography niches, including product photography that this article will focus on? Of course, yes! This toolkit is just the best choice amongst the thousands available.
Doubting this? Let's see why they are the perfect choice for product photography.
Why are Ring Lights Good for Product Photography?
A criterion that determines whether or not a lightning source is good for product photography is the ease with which it can be manipulated. And it's based on this we are confirming that a ring light is the best for your product photography. You can control the amount of lightning generated from a ring light by moving it to and fro till you get that which you desire to shoot fantastic product photographs.
Also, you can leverage the circular part of the design to prevent glare and shadows from appearing on your product image by placing your camera right at the center. See the image below to have a visual understanding of what we are saying:
Furthermore, ring lights give the end-users of your product a clear view of the product by exposing every part of the product while keeping it away from the background. The output becomes bright and sharp which makes your product photograph aesthetic and eye-catching thereby helping you raise the demands from customers.
Convinced about our report on ring lights?
And now you want to use it in your product photography shoot? You need the stepwise guide to do this. So read on.
How to Use a Ring Light for Product Photography?
You must have prior knowledge of how ring lights can be used in product photography because the set-up and application process can be quite tricky. Check out the detailed step by step guide below to use a ring light for your product photography:
1. Set the Ring Light
The first thing to do when you want to shoot footage with ring lights is to set it up. You do this by screwing the circular object to its stand. Once the light is fitted to the stand, plug it into a socket with voltage in it and then switch the socket on. The ring light will immediately light up when power is supplied. Check the bulbs to see if they are working fine before usage.
2. Position your Camera at the Center of the Light
For the type of photography you want to shoot, you should place your camera in the center of the ring light so you can have an amazing image at the end. While some ring lights will come with a camera stand at the center, others don't. You will have to improvise. But it's essential you get one with a camera stand at the center to ease the stress of creating a stand. Attach your camera which could be a professional one or a mobile device to the stand. Ensure that it's well fitted to avoid blur images.
3. Set the Background to Shoot Photograph
Backgrounds are essential elements in any photography process. It is what compliments your image so they look attractive to viewers. There are several colors to use as a background for photo shoots, however, white backgrounds are the best for product photography. Yellow, pink, and blue are also great colors, but they might complicate the image.
4. Take photos of the Product
With a clean background set up, your product is ready for a photoshoot. Take pictures of your product from different angles of the room by adjusting the ring light stand. You may choose to move the stand some meters away from the product to give your customer a clear view of how it looks from afar. Also, you could move the ring light to the corner of your room to create another image.
5. Make Adjustments
Editing a picture after a photoshoot is important. It helps you enhance the professionalism of your job thereby making it stand out. Use powerful photo editing software like adobe to make necessary adjustments to the image. Pimp the photograph by adding filters, effects, backgrounds, and others. If you don't have good knowledge about e-commerce photo editing then you can feel free to hire us.
Conclusion
There is no doubt that the right light is a great artificial lighting tool as it provides you with the very actual amount of light you need for product photography. It's handy and of course manipulative like sunlight, an example of natural lightning. One thing that makes this tool stand out is the amazing tone it gives to an image. This makes the image attractive. Also, you don't have to be an expert photographer before you can make use of it. Just so you can shoot premium-quality product photographs with ring lights, we implore you to practice regularly. With that, you can become an expert photographer.