Make Home Studio for Your Photography Business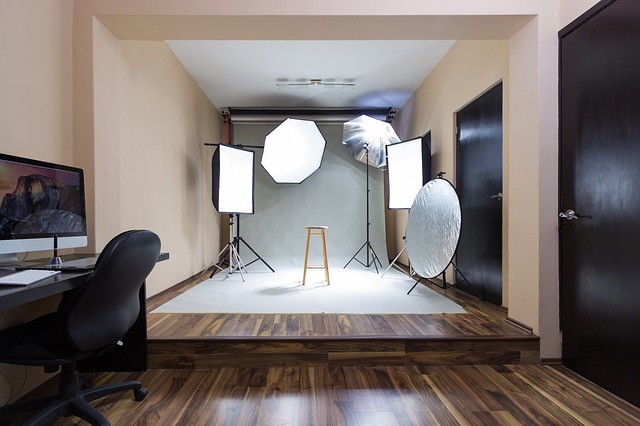 In order to become a great photographer, you need to have three things – passion, work habits, and working conditions. The last part is greatly determined by your studio and equipment. Seeing as how there are a lot of instances where these two things are one and the same, it might be a good idea to further investigate your options. Things like light, the layout of the studio, elements like a backdrop and workstation may directly affect your workflow as a photographer. Therefore, they need to be taken as seriously as possible.
5 Tips for Taking Amazing Product Shots at Home
Here are several ways you can make a good home studio for your photography business, thus gaining the competitive edge that you need. Moreover, these several ideas are not likely to put a strain on your budget.
1. Choose the right space
The first step lies in picking the right area of your home. You should start by picking an adequate position for the room. Within your home, it should be the most remote of the areas. If you're not living alone, the place can get noisy and instead of silencing your roommates and family members inside of their own home, you might want to make it harder for you to hear them. The location of the room also matters. You want a room facing east, seeing as how this will get you the most sunlight throughout the day, especially for early-risers. Lastly, the room needs to big enough to get all your inventory.
Then, you need to consider the importance of organizing the space so that all your equipment fits. Sure, you can keep some necessary items in the storage but for the sake of convenience, it might be more efficient to have it all in one place. So, start thinking about all the equipment you need. The backdrop may also take some space, which is why you should count it in. other than that, think about your workstation (something we'll discuss later), mounts, racks, and more. Plan the entire layout before choosing a room.
Pro tip: the first task on this project lies in finding a suitable room. The place needs to be filled with natural light, in the remote part of the home and it needs to be big enough for the entire inventory of your studio. All traditional rules for setting up a home office apply.
2. Room preparation
The thing that you need to focus on is preparing the room for this purpose. You see, you need to start by painting your walls. This can be used for a backdrop (something we will discuss at length a bit later). According to veteran house painters from Sydney, the color and the type of paint may determine the reflectiveness of the surfaces involved. Because you want to provide your clients (or yourself) with some calm and privacy, now might also be a good time to invest some effort into making the room soundproof. Adding acoustic panels to walls is one of the ways to do so.
Keep in mind that the natural light might be both an ally and an enemy. You need a way to control its influx, which is why your windows need some heavy curtains or quality blinders. This way, you get to determine when you use natural light and when you should go with an artificial alternative instead. Keep in mind that you will spend hours upon hours in this studio, editing when you're not taking photos. Natural light has a particular effect on your productivity. This is why it's always worth it to get a room filled with sunlight.
Pro tips: Preparation of the room comes in several stages. The place needs to be clean, the walls are properly painted and the natural influx of light under your control. Once you have all of this out of the way, you're ready to proceed to the next step.
3. Make great backdrops
Even though a greenscreen can do quite a bit with the right editing tool, having a real backdrop is still not an outdated concept. The facial expression of your clients might also be affected by their ability to get into the mood. You see, there's quite a bit of psychology at play here, as well. A backdrop is something they can see, which is why it makes the immersion much easier. A photographer once took photos of people before and after she told them they're beautiful and the end result was quite impressive. In other words, the mindset of people you're photographing (and your own mindset if you're not photographing people) is what matters the most.
Making your own backdrops is a simple and elegant idea. Moreover, it is quite frugal and gives you one more opportunity to express yourself creatively. You'll need to start with some basic, inexpensive materials. Book pages as wallpaper, interesting wallpapers, balloons, old fabric, and even old furniture pieces can do the trick. Then again, the paper is quite versatile and depending on your origami skills, could make quite an impact. The world is your oyster.
Pro tip: Making a backdrop is easy, simple to pull off and it's something that will help your audience achieve a much higher level of immersion. It's traditional and it works.
4. Home photography studio equipment
The next thing you need to invest in is the photography studio equipment. First, start by making a list of all you need and then make a range of options for every item. This will greatly help you with budgeting. Chances are that you can either go with one high-end item and that you'll stick with more frugal options for the rest of the list. Keep in mind that some of these items you buy last, while the rest will be replaced in a matter of months or years. You're an entrepreneur now so try to avoid the pitfall of overinvesting.
As far as the specific items go, you need a camera and a tripod, as well as lights, light stands, modifiers, and reflectors. These are the very basics and should, therefore, represent the core of your needs. You also need a backdrop (something we've already discussed), and some hardware/software for editing the photography. Keep in mind that you also need to leave some room in your budget for various online courses and other means of self-improvement. All in all, you have so much to look forward to.
Pro tip: Being systematic when organizing your photographing studio is a key thing. Sure, there are certain items you need but overspending them means overinvesting, which is a massive misstep by first-time entrepreneurs.
5. Your computer is one of your most important tools
In 2021, the majority of photography-related work takes place in the digital world. Some tools may need a particular hardware setup in order to run certain software. It is one of the mandatory steps you have to take in order to become a career photographer. There's a long list of suitable and recommended computers by various photography experts. Apple Mac Mini M1, for instance, is a device that you can't go wrong with. Acer Aspire TC and Microsoft Surface Studio 2 are two other options. The key thing is to find something that fits your performance requirements and your budget. If you are looking best laptop, which is suitable for adobe photoshop or other photo editing software then click here.
Your work is nowhere near complete until you have a suitable software lineup, as well. Everyone knows about Adobe Photoshop and this tool is one of the most iconic photo editing software options in the industry. However, it has numerous activities like Capture One Pro, Affinity Photo, and Skylum Luminar. Sure, there are also numerous free tools out there for you to use, however, if you intend to get involved in the world of professional photography, you might want to consider paying for a premium license.
Pro tip: Getting yourself a great studio photography hardware and software are pivotal. Ideally, you will have everything in one spot, so consider assigning one corner of your studio to be the place for your office desk.
In conclusion
At the end of the day, even the best of studios won't matter unless you have what it takes to be a professional photographer. This industry is peculiar because it requires you to be both an artist and an entrepreneur. You need to know how to make a business plan, maintain a budget and see your photos as more than art. For a professional photographer, they are also a product. This is why they need to be polished, taken in big enough quantity, and sold to the right bidder. Having a great home photography studio can help you achieve all three of these things with greater efficiency.